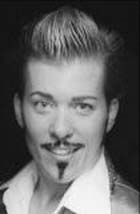 Mo B. Dick
Tough talking Mo B. Dick is the man behind New York City's legendary Club Casanova, the world's first weekly drag king party. In 1996, the Men of Club Casanova smooth talked every audience and soon were one of the city's favorite spectacles. Through their outstanding, irreverent performances, Mo and his boys soon stirred major international interest in drag kings. Six years later, Mo B. Dick has toured the world, has been the subject of countless articles and publications (including a chapter in Judith Halberstam's The Drag King Book), and has been featured on the small and large screens, on Sex and the City, MTV, Maury Povich, and in John Waters' film Pecker as a wisecracking stripper and biker. (Incidentally, Waters testifies: "Drag kings these days look sexy enough that I want to sleep with them, and that alarms me.") Mo is truly a king of the kings.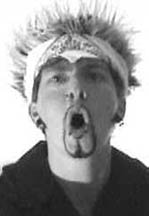 Dante DiFranco
Dante DiFranco is an Internationally performing drag king from Duluth, MN. He just finished a recent tour of his own, Gender Distortion, throughout the East Coast and now joins the Boys of Casanova to 69 the country! He is the author of the forthcoming drag king book, "The Art of Drag Kinging: 'Drag'ging Out Your Inner King", and the founder and moderator of one of the largest drag king listserves. An enthusiast of the bizarre, a fiend for the spontaneous, and conasseur of the random; he is a pure mosaic of craziness.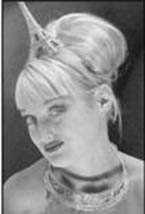 Miss Jonona
Miss Jonona has been singing and dancing her little heart out since the tender age of two. Originally from West Texas, Jojona grew up on a steady diet of BGH, big hair, tawdry tales, and Dr. Pepper. Her love of old movies and sparkly, shiny things further solidified her future as a drag queen in a woman's body. From her first country western act at the Holiday Inn at the age of 12 to the sleazy cabaret joints of Manhattan's Lower East Side, Jonona is a performer who will stop at nothing to please you.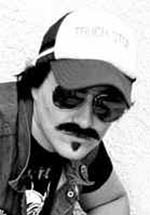 Scab N. Eatum
Scab N. Eatum has been performing with the Sugar Daddies in Los Angeles as a cock sportin drag king as well as the luscious Miss Pussy Pants. He works the back bar at the mud wrestling bar in the Valley. Just give him some beer, trucks, tits, and tatoos, and this crazy mutherfucker will be just fine. E-mail him at: scabneatum@hotmail.com for information on getting custom made leather goods including sturdy harnesses for your pleasure.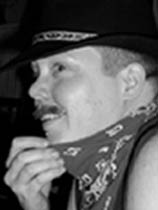 Cody Pendant
Cody took his first step on stage in the Spring Fling at The Sportsman in Lafayette, Indiana. The cowboy in Cody darned near sent the girls into a stampede. But don't lasso this young fella just into a cowboy role. Cody loves performing different personas like leather daddi, rocker, rapper, and on occasion, masquerading as his twin sister from down south, Indy Pendant. In pursuit of higher graces and expressions, Cody moved to Chicago in the Spring of 2001. Cody eventually saddled up with the Chicago Kings and has been performing as a regular ever since.